Why are Frozen Seafood Products a Better Alternative for Busy Moms?
Nowadays, people are constantly moving due to a demanding work schedule and family obligations, including moms. One consequence of the busy life is that food may be eaten in a rush.
Usually, with one hand, while the other is used to navigate the vehicle, sending messages on their mobile phone while commuting, or type on their computer while at work and at the same time eating lunch. Busy moms may not have the time to cook family meals.
Fortunately, processed frozen foods can help to reduce more than half of your cooking time, giving you just enough time to whip some healthy meals for you and your family.
Frozen foods are half-cooked meals that are stored for next use in a freezer. Since most of the work is finished, busy moms can heat the food for a few minutes and perhaps add a few ingredients and serve, saving you time and energy.
Freezing is a method of natural preservation and does not require additional preservatives. By freezing, vitamins, minerals, and important nutrients are locked in. Frozen food, therefore, is a real alternative to fresh food, which is just as nutritionally healthy, especially if you have a busy schedule.
EB's processed frozen seafood products have their nutrients locked in, unlike fresh produce that loses some nutrients during storage over time. In general, the nutrient content of frozen seafood is the same and, in some cases, much greater than that of its fresh counterparts. Generally, the mineral content remains the same as that found in fresh foods.
The best backup choice for busy moms is frozen seafood and vegetables. They can easily be a genuine alternative to fresh food that takes longer preparation and cook time. It's just as good nutritionally as fresh. Besides, after the day's work, you need something you can easily cook without adding to the day's stress.
If you and your family want to have a healthy, nutritious diet but lack time to cook fresh food, it can be a great source of nutrients to have processed frozen seafood products, vegetables, and fruits in your freezer.
Must-have Frozen Seafood for Busy Moms
An essential addition to any freezer is prawns or frozen shrimp products from EB Frozen Food such as Prawn Paste, Tiger Prawn Roll and Shrimp Wonton.
They don't take long to defrost and are a flexible ingredient — you can use cold water and hold them in the bag during thawing. It is easy to cook or added to a versatile food. For those who fancy Prawn Paste and Tiger Prawn Roll, the good news is defrosting is not required. In fact, you can directly cook them from frozen giving busy moms great convenience.
Onboard the ships, commercially captured fish is flash-frozen to hold nutrients, kill parasites and make it last longer. Although white fish can dry out a bit, oily fish such as salmon and tuna freeze well. 
Frozen fish products of EB Frozen Food like the Fried Fish Ball, Crab Nugget, Cooked Fish Ball, or Fish Roe Lucky Bag are easy to thaw and don't take long to cook. It also is used as an ingredient for versatile foods. When it comes to Fish Roe Lucky Bag, it is made with premium surimi and full of fish roe make this successful combination creates an unprecedented delicacy experience.  
Finger Food are quick and easy to cook. The Chicken Series is sweet, fragrant, and nutritious — cooked through tender, marinated chicken breast, mushrooms, and scallions. Finger foods like the Crispy Chicken Wonton, Chicken Roll (Cheese), Chicken Roll (Salted Egg), etc., are available on EB Frozen Food. Seafood finger foods like Crab Stick Roll, Fish Chip, Golden Fish Chip, etc., are also available. These fresh and flavorful finger foods are excellent for busy moms; they could double as a main in larger servings and accompanied by side dishes.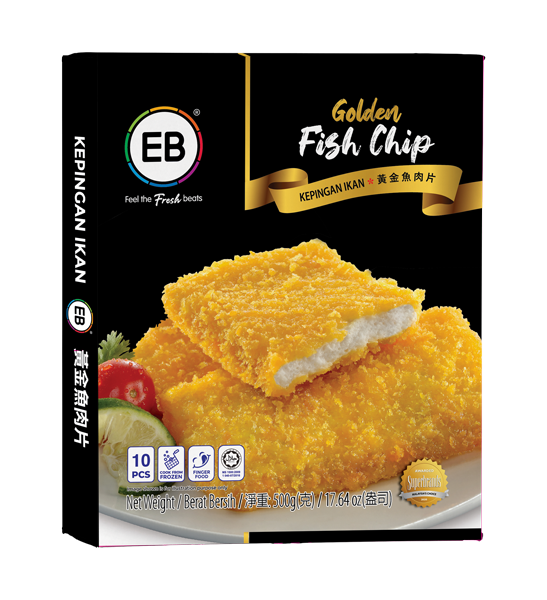 From a food safety point of view, it is critical not to refreeze after the product has been thawed. Most frozen crumbed foods are cooked from frozen, so you don't have to think ahead. And prawns are quickly thawed by putting cold water in a bowl and then draining in a sieve.
A variety of cooking methods are mentioned on the label. We do not suggest deep or shallow frying, as these methods add a lot of fat and kilojoules unnecessarily. Oven-baking is a better way to cook crumbed products. Stir-fry foods such as prawns.
Finally, not only are EB's frozen seafood products fast and simple to prepare, but they also help reduce food wastage. By using just as much as you need and throwing the rest of your frozen food back in the fridge, you can easily manage your portions, which in turn saves you cash from not having to throw left-overs away. For more information, feel free to get in touch with us.